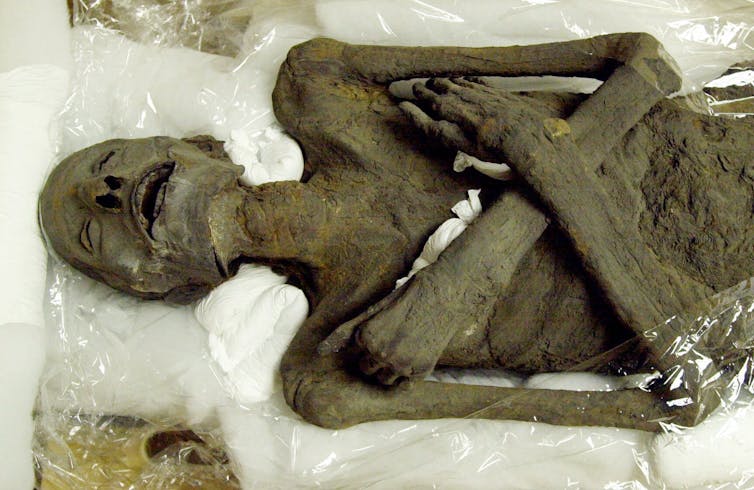 By Chip Colwell, University of Colorado Denver
The remains of a 6-inch long mummy from Chile are not those of a space alien, according to recently reported research. The tiny body with its strange features – a pointed head, elongated bones – had been the subject of fierce debate over whether a UFO might have left it behind. The scientists gained access to the body, which is now in a private collection, and their DNA testing proved the remains are those of a human fetus. The undeveloped girl suffered from a bone disease and was the child of an unknown local Atacama woman.
This study was supposed to end the mummy's controversy. Instead, it ignited another one.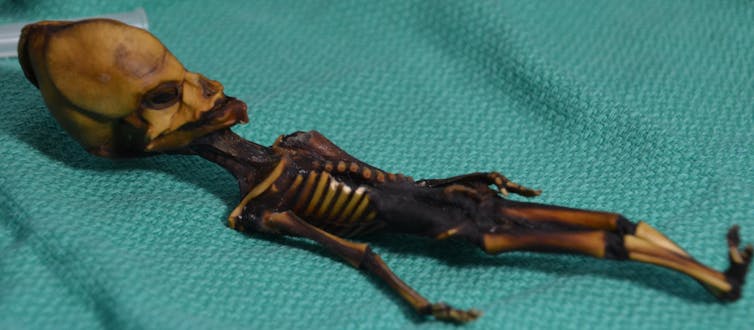 Authorities in Chile have denounced the research. They believe a looter plundered the girl from her grave and illegally took her from the country. The Chilean Society of Biological Anthropology issued a damning statement. It asked, "Could you imagine the same study carried out using the corpse of someone's miscarried baby in Europe or America?"
As an archaeologist, I share in the excitement around how technology and techniques to study DNA are leaping ahead. As never before, the mysteries of our bodies and histories are finding exciting answers – from the revelation that humans interbred with Neanderthals, to how Britain was populated, to the enigma of a decapitated Egyptian mummy.
But, I have also closely studied the history of collecting human remains for science. I am gravely concerned that the current "bone rush" to make new genetic discoveries has set off an ethical crisis.