,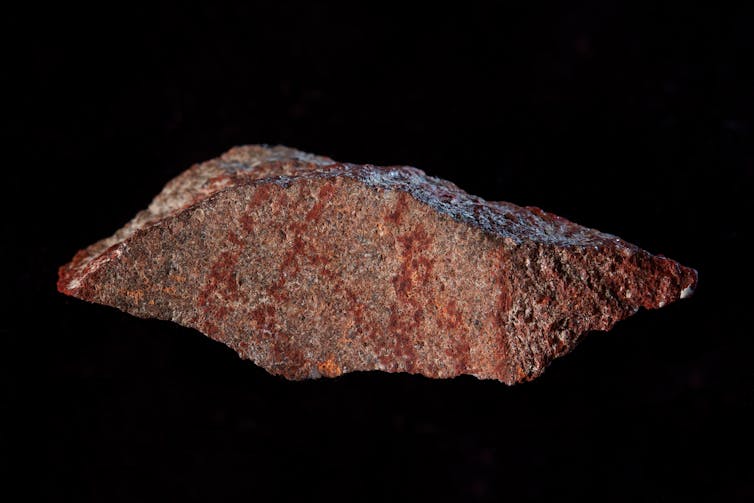 By Christopher Henshilwood, University of Bergen and Karen Loise van Niekerk, University of Bergen
Scientists working in Blombos Cave in South Africa's southern Cape region have made a discovery that changes our understanding of when our human ancestors started expressing themselves through drawings. They've found a 73 000-year-old cross-hatched drawing on a silcrete (stone) flake. It was made with an ochre crayon. The Conversation Africa asked Professor Christopher Henshilwood, who leads the team that made the discovery, about its significance.
What does the drawing your team found look like?
It consists of a set of six straight sub-parallel lines crossed obliquely by three slightly curved lines. One line partially overlaps the edge of a flake scar. This suggests it was made after that flake became detached. The abrupt termination of all lines on the fragment edges indicates that the pattern originally extended over a larger surface.
So the pattern was probably more complex and structured in its entirety than in this truncated form.
This has shifted our thinking about when human ancestors started drawing. What was the earliest known drawing found before this?
The earliest known engraving, a zig-zag pattern incised on a fresh water shell from Trinil, Java, was found in layers dated to 540 000 years ago. In terms of drawings, a recent article proposed that painted representations in three caves of the Iberian Peninsula were 64,000 years old – this would mean they were produced by Neanderthals. So the drawing on the Blombos silcrete flake is the oldest drawing by Homo sapiens ever found.